Learn everything about what to expect with a driveway sealing Swansea service in this article. You will discover how block paving sealing can benefit your driveway, how much driveway sealing will cost, and how long you can expect it to last.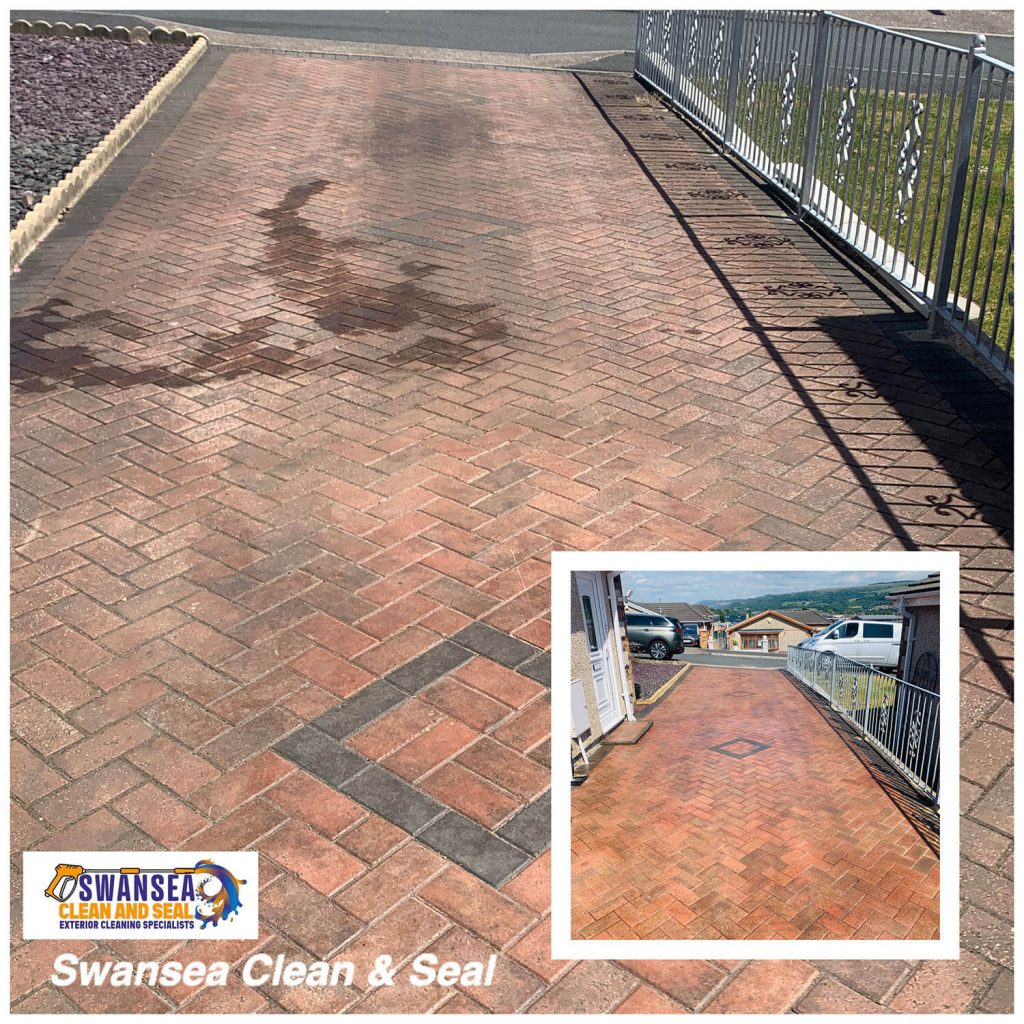 What are the Benefits of Sealing My Driveway?
Whether you have concrete block paving, clay block paving, or natural stone, our block paving sealing service will deliver a range of benefits.
A driveway sealing Swansea service is suitable for a wide range of paving services, including:
Driveways
Patio paving
Paths and walkways
Garden paving
They are also ideal for large and small projects, from residential driveways and paths to large-scale commercial projects.
Driveway sealing is the final step in the installation process, and here's why a driveway sealing Swansea service is a good idea.
Protection from Stains
You have no doubt chosen block paving for your driveway due to its aesthetic appeal of the design and colour. Not only will block paving sealing protects the surface from stains, but it also gives it an appealing gloss finish. Plus, you can choose how glossy the finish is by using different types of sealer.
Sealer does not alter the colour of the surface, but it will highlight the natural hues and subtle gradations present in the material. More importantly, the colour you love so much will be protected against the damaging UV rays that cause fading.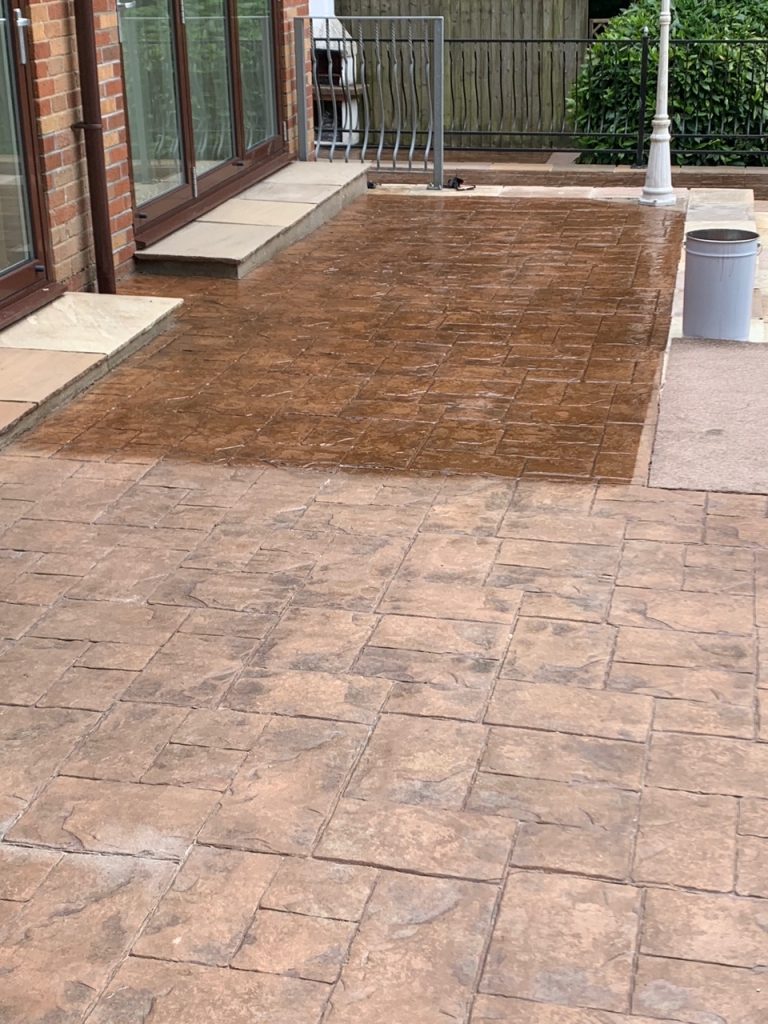 Reduces the Appearance of Ageing
Time is the greatest of enemies when it comes to any surface subjected to the elements, including block paved driveways and pathways. Over the years, your once pristine driveway will have to ward off mildew, rust, oil, dirt, and damaging UV rays.
Applying a driveway sealer helps with keeping your driveway clean and looking like new for longer. The sealant is non-porous, making it easy to wash any potential stains away without leaving any residue.
Moisture is perhaps the most damaging environmental hazard faced by driveways. A moist environment is a haven for mildew. Water can also enter the porous services of a driveway, freezing and expanding on frosty mornings.
With enough moisture, the level of expansion can be enough to cause cracks to appear in your driveway. The sealer creates a non-porous service that allows the water to freely run off where it won't do any damage.
How Much Will it Cost to Seal My Driveway?
Old tired driveways degrade the curbside appeal of your property and add years to its age. For many people, all it may take to bring a driveway back to life is to clean and seal with block paving sealing.
How Long Does it Take to Seal a Driveway?
There are quite a few things to do before your driveway is ready for an application of sealant.
The first step will be to pressure wash your driveway to get it ready for the sealant. Pressure washing uses powerful water jets to remove weeds, algae, and old stains from the surface.
Your driveway must be completely dry before it has sealant applied to it. During winter, spring and autumn, you may have to wait a few days between cleaning and sealing. Any moisture present during sealing will prevent it from adhering properly to the surface.
After jet washing, an application of fungicides and weed killers will take most of the morning to complete.
When your driveway is completely dry, kiln-dried sand will be brushed over it to refill the joints between the pavers. Excess sand is then removed from the surface. For most average-sized driveways, this part of the job will take not much more than an hour.
Sealant is applied in two coats, with the first taking about two hours to dry and be ready for the second. The first coat takes about two hours to apply, but the second generally takes about half that.
How Much Will a Driveway Sealing Swansea Job Cost?
Now that you know what's involved in sealing a driveway, you will have a better understanding of the costs.
A straightforward job will range between £8.00 and £12.00 per square metre. Based on those figures, your driveway sealing cost might look similar to the following;
| Driveway Type | Working Hours | Approximately Cost |
| --- | --- | --- |
| Small Driveway | About 5 hours | Apprx. £200 |
| Medium Driveway | About 7 hours | Apprx. £300 |
| Large driveway | About 8 hours | Apprx. £400 |
Our Works
How Long Will the Driveway Sealant Last on My Drive?
When you can finally view your newly restored driveway in all its glory, you may be wondering how long the driveway sealant will last on your driveway.
The short answer is good news because a high-quality sealant applied by a professional driveway sealing Swansea service will last a good few years before it will require resealing.
However, how long your sealant will last will depend on a few variables. A driveway that experiences heavy traffic will not last as long as a driveway where only a single car is driven on it a few times a day. Exposure to the sun, the weather, and oil can also affect how long a sealant will last.
Low-quality sealers also won't last as long as you might expect them to, with some brands barely able to make it through 6-months before they need recoating.
Always use a driveway sealing product that can go the distance. Driveway sealing isn't all that expensive relative to other home improvements, but it will start eating into your family budget if you are getting it done twice a year.
You probably shouldn't wait a decade to reseal your driveway, but you also shouldn't have it sealed too often. Some people go overboard and make sealing the driveway an annual or bi-annual event.
If you see your driveway sealant chipping or flaking, then you have either been applying it too often, or it's been laid on too thick. A pressure washer will need to remove as much of the old sealant before laying down new coats.
In general, expect a sealant to last at least 2 years before it needs touching up. Even then, if it still looks good, it won't hurt to wait another year and see how it goes. A good rule of thumb is if your driveway looks like it needs sealing, you are most likely right.
For more information on driveway cleaning Swansea / pressure washing Swansea click here